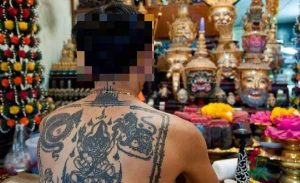 Dear Editors,
It's been 1 year more that I lost my job and didn't found any because of some crap that I've gotta myself into. Some people doesn't believe in "black magic" or Chinese term they call it "gong tao".
So early 2015 I have been black on or they called it "tio gong tao". I couldn't believe myself either, that I have black magic on me. Voices and noises running through my head. Making me very paranoid. Which I had myself medical health check on which is perfectly fine. So I did some research on the net and I found out people just put black magic on me. So this past 1 year i been finding help from my Cousin family and Friend, and I'm slowly realising, it is somebody whom I knew that put a curse on me.
Practicing this kind of act, which I have no idea what to do. Singapore Law doesn't recognise this kind of "black magic" act and I don't have any proof either. I can't put a tape to record the voice in my head. So I start figuring this out on my own. Clues coming out from the voice which quite tele to the research I have done. Some good and some bad voices. You might think I'm crazy, but this is the hard truth. Because Singapore doesn't happen this kind of stuff daily, and nobody dies from it. It only shows on television that people had black magic on but nobody believe in fact it is happening in the real world. But i bet somebody will turn crazy because of this voices and image coming out from your head.
I approach lots of monk and so called "arjarn" they had this spell going on to found out who does it. Finally truth revealed. I had a ex Girlfriend which is a Thai national put black magic on me by her jealousy ex Boyfriend. That's kind of surprised because it is like years ago. I continue my research that her previous bf take part in a temple called "無常殿".
You can have your research done because this black magic is kind of complicated, there's some believer and some non believer. I'm a Roman Catholic myself and I have totally zero knowledge about this kind of stuff. I have lower my religion and went to temple to seek help from monk. That's how pity i am. Up till this day I can't find any cure, and those voices still running through my head. Had psychological checked on me which is perfectly fine. The only proof that I had is only the words coming out from every monk and every arjarn. Research I've done that tele from it. Names and location but just don't have a hardcore proof to provide in Singapore court and justice.
I hope this news can be spread to everyone else out there to becareful of the "art of thai magic". Research that I have done and I found out lots of arjarn are carrying out business in Singapore practice Thai magic. Arjarn can be good can be bad. Why they can come into our country and practice magic on people? Shouldn't they have license checked before opening shop in Singapore. To my knowledge Singapore doesn't have any kind of license for them practice religious magic or Thai magic. So what if any people come to harm? Its easily to find who and whom that have u set up right ? Please spread, thanks.
Gongtao Victim
A.S.S. Contributor
Articles from allsingaporestuff. Link to the articles
https://www.allsingaporestuff.com/article/help-i-am-cursed-thai-black-magic-cant-find-cure-voices-my-head
PS:
Xuan Long: Not sure if you guy believes or not this kind of thing does happen. This kind of black magic will slowly break down a person due to lack of sleep and mentor stress. some time counseling may help but most of the time can't. The root of this problem comes when you believe you are cursed by black magic and you start to seek help here and there insisted on getting better sometimes it become worse. Because you start to believe you been curse and due to human nature we will find all way to fight against it.
People get worse if they find the wrong master or cure which ended up worse then before. They either learn black magic to fight against it or cheated by some master that said can cure them which may add more curse to the person.
When you think you were cast by black magic there a few thing you can do. Listen to the voice and hear what they have to say.But don't believe them.(Normally they will say thing that you fear or person that you care most. And to fear you more they make you think they will harm the person you care most. Bear in mind all these voices only to confuse you.The only person can harm them is yourself.They will use you're confuse mind to harm all these people you care most.) Try to solve the problem that you hear. If it said you should not break off from your ex-girlfriend then explain to your ex-girlfriend why you need to break off from her. When you explain to her nicely and when she forgive you the spell will break off automatic.
A person must have a clear conscience, a peace of the mind and heart only then you be free from black magic. I don't believe in using magic against magic because not any person can learn or master in a short time. Find the roots of the problem and solve it. Ask yourself why people cast spell on you? What have you done that people are willing to risk their life to cast the spell on you? Once you have the answer find a way to solve it.
However, if you have no clues why people cast spell on you do drop me a message. I can check for you there will be a time you just happened to bump into it without your notices.
Xuan Long Sen Ren