69-year-old retiree pleads guilty to stabbing wife to death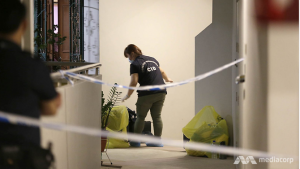 SINGAPORE: A 69-year-old retiree was on Friday (Sep 8) convicted of culpable homicide for killing his wife with a knife and chopper in a "savage" attack last March.
Kong Peng Yee was initially charged with murder, but the charge was reduced after it emerged that he had been suffering from a brief psychotic episode at the time he killed Mdm Wong Chik Yeok, his wife of 36 years.
The High Court heard that Kong started to behave oddly after an eye operation in January 2016. He refused to take medication he believed was poisonous and was worried that someone was trying to harm him.
On Mar 12, Kong's 63-year-old wife and two daughters accompanied him to the doctor to collect his medical test results. Although the report stated he was fine, Kong remained concerned that he was sick and was going to die.
His elder daughter, 36, suggested her parents spend the night at her place, thinking that a change of environment might do her father good. At the house, Kong told his daughter he did not think she was his, but said that he would not "abandon" her.
The daughter took her parents to church the next morning, where Kong mumbled to himself and told a stranger sitting beside him that people were poisoning him. Kong and his wife returned to their Compassvale Crescent flat after church.
"I KILLED MUMMY"
Kong, who had fallen asleep, was woken up shortly after 3pm by what he described as "roaring sounds". He picked up a knife from the kitchen sink before walking into the living room and stabbing his wife in the back.
Kong moved to face his wife and continued to stab her. When he dropped the knife, Kong took a chopper from the kitchen before continuing to hack at Mdm Wong, determined to "make sure she die (sic)".
He then called his younger daughter and said: "I killed mummy". Kong's daughters called the police and rushed to their parents' flat where they found their father sitting on the sofa and their mother lying in a pool of blood at his feet.
A psychiatrist said Kong had a "brief psychotic episode" at the time when he killed his wife. "His psychotic state could have its origins in a severe depression (due to) the mild physical impairments after (Kong's) eye surgery, which he then blew out of proportion," Deputy Public Prosecutor Sarah Shi said, citing psychiatrist Dr Kenneth Koh's report.
The report also stated that although Kong's psychosis "significantly affected his mental responsibility for his actions", he knew what he was doing and that it was wrong.
"In the immediate aftermath of the attack, (Kong) even had the presence of mind to leave a note on how his property and savings should be distributed" between his daughters, the prosecutor said. "He knew full well what he was doing."
She called for at least nine years' jail for Kong for setting upon his wife "in an act of senseless brutality". Mdm Wong was "utterly defenceless" and no match for Kong "who was relatively unscathed by the savage attack while she suffered a colossal 189 injuries," the prosecutor said.
Defence lawyers Sunil Sudheesan and Diana Ngiam urged the court to impose around five years' jail. "Our client loved Mdm Wong," the lawyers said, adding that Kong had never been violent towards his wife in all their years of marriage.
"(His) behavior only turned erratic and bizarre upon the onset on his psychiatric condition," Mr Sudheesan said. "Our client is wrought with sorrow and remorse at the fact that he killed his wife", and remains "shaken", he added.
Kong's two daughters, who were in court on Friday, are supportive of their father and will ensure he gets the care he needs upon his release from prison, Mr Sudheesan said.
In a follow-up report in May 2017, Dr Koh said Kong's psychiatric disorder is in remission.
Before Justice Choo Han Teck sentences Kong, he asked for prosecutors to arrange for Dr Koh to testify before him on a date to be fixed. "I have a few questions for him," Justice Choo said.
For culpable homicide not amounting to murder, Kong could face life imprisonment or up to 20 years' jail and a fine. As he is above 50, he cannot be caned.
http://www.channelnewsasia.com/news/singapore/69-year-old-retiree-pleads-guilty-to-stabbing-wife-to-death-9197928
Articles from Channel News Asia.
Same articles from Straits times
SINGAPORE – A 69-year-old retired aircraft technician, who developed delusional beliefs that his family was trying to harm him, decided to take a pre-emptive strike by killing his wife of 36 years, the High Court heard on Friday (Sept 8).
Kong Peng Yee pleaded guilty to a charge of culpable homicide by slashing Madam Wong Chik Yeok's head, first using a knife and then a chopper, at their Sengkang home on the afternoon of March 13 last year.
He was initially charged with murder but the charge was reduced, as a psychiatric assessment by Dr Kenneth Koh from the Institute of Mental Health found that his mental responsibility for actions had been substantially impaired by his psychotic delusions.
Kong's psychotic state could have its origins in severe depression following mild physical impairments after his eye surgery, said Dr Koh's report in April last year.
A further report in May this year said Kong had a "brief psychotic episode" at the time.
Kong, who was put on anti-psychotic and anti-depression medicine in prison, no longer suffers from the delusions.
The court heard that Kong and Madam Wong, 63, lived with their younger daughter Yanni, 27, in Compassvale Crescent. Their older daughter Annie, 36, lived elsewhere.
In January last year, Kong underwent cataract surgery. Over time, he began to associate various other ailments, such as constipation, weakened knees and insomnia, with his surgery or his food intake.
He refused to take laxatives, believing they were poisonous. When his wife and younger daughter made him drink prune juice for his constipation, he believed they were trying to torture him.
On March 12 that year, after collecting health check-up results, he felt someone was trying to harm him or that he was going to die from some illness, even though the report was not adverse.
When Kong and his wife spent the night at Annie's place, he told her to take care of her younger sister if he was not around. He also told Annie that he did not think she was his biological daughter but did not want her to go for DNA testing.
At church the next day, a Sunday, Kong made incomprehensible noises, ending with "mad already" while they were in the lift.
When Kong and Annie ran into a pastor, he blurted out something to the effect that God wanted him to return his daughter to the rightful parent. During the sermon, he told a stranger next to him that people were poisoning him.
After church, Annie drove her parents home and left to meet Yanni.
Kong, who had taken a nap, claimed that he woke up to roaring sounds. He walked to the kitchen, took a knife from the sink and stabbed Madam Wong in the back while she was folding some clothes in the living room.
He moved to her front and continued stabbing her. When the knife dropped to the floor, he went to the kitchen to get a chopper and continued attacking his wife, stopping only when he realised she was dead.
Kong phoned Yanni, but she missed his call. He then called his younger sister and told her he had killed his wife. He told his sister to call the police and distribute his money to his two daughters.
He also wrote on a piece of paper how his assets should be distributed.
When Yanni called him back, the first thing he said was "I killed Mummy". When she told him not to talk nonsense, he replied, "Already killed".
Annie drove back to the flat and called the police, while Yanni kept her father on the phone.
When they reached the flat with police officers, Kong was sitting on the sofa in blood-stained clothes, while Madam Wong was lying motionless on the bloodied floor.
An autopsy noted 189 injuries, including knife wounds and bruises, mostly concentrated around Madam Wong's head and neck. She bled to death from multiple slash wounds to the head.
Kong told police that he believed his family would not look after him if he was unwell, that Annie had reconciled with her "real" parents, and that he should kill his wife first because his family might want to kill him.
He said that on the day in question, his mind told him to "make sure she die" and that he was "happy" on realising that she was dead, the court heard.
The case was adjourned for sentencing after Justice Choo Han Teck said he would like to ask Dr Koh some questions.
Deputy Public Prosecutor Sarah Shi sought at least nine years' jail, while defence counsel Sunil Sudheesan asked for five years' jail.
http://www.straitstimes.com/singapore/courts-crime/man-pleads-guilty-to-culpable-homicide-for-killing-wife-after-thinking-family
Articles from Straits Times.
PS: you may want to know how i feel about this news by clicking below links.